Overview
Drawing creation
High quality output at 1200 x 1200 dpi
Capable of two separate network environments
Drawing Output
High speed output of A1 sized paper at 9.7 sheets/minute
A0 sized paper can also be output
Digitization
Full colour scanning of A0 sized paper
Drawings can be both saved and printed simultaneously with a single scanning operation
This wide-format multifunction device acts as a hub
Just right to handle those workplace printing needs
While business collaborations with external partners are increasing, on-site requirements in the manufacturing, construction, and engineering industries are becoming more advanced and diverse. Industries increasing require the prevention of information leaks and the promotion of standardization.
Fuji Xerox responds to these requirements inconsideration of security, user friendliness, and compatibility with systems, etc. in addition to image quality and speed.
The result is the new wide-format multifunction device, the DocuWide 6057 / 3037, a powerful device that supports your business.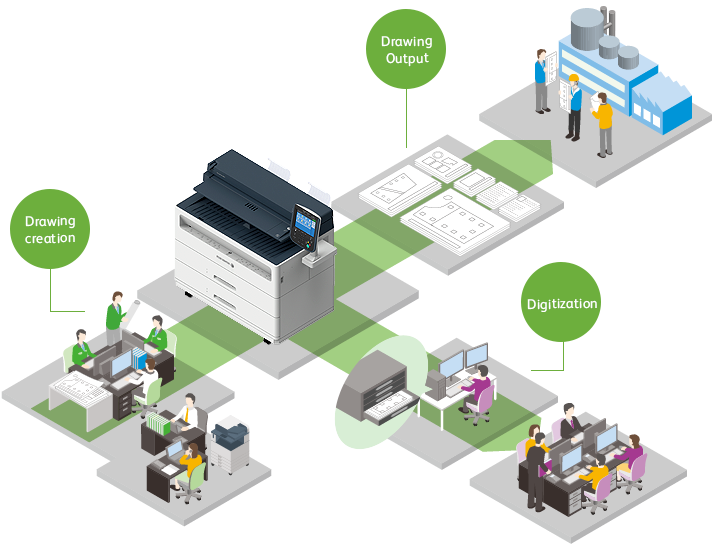 Drawing creation
Beautiful and fast.
It is a network plotter that supports your design work
– High quality output at 1200 x 1200 dpi
– Capable of two separate network environments
[Secondary Ethernet]
The machine comes standard with two separate Ethernet connections. Printing can be performed from two completely separate network environments. This means the device can be used from the company LAN as well as via the internet or a WAN.

Drawing Output
It is a Digital copier that includes many convenient functions for outputting drawings
– High speed output of A1 sized paper at 9.7 sheets/minute*1
– A0 sized paper can also be output
Digitization
It is a Network scanner that easily digitizes large size drawings
– Full colour scanning of A0 sized paper*2
– Drawings can be both saved and printed simultaneously with a single scanning operation
[Security]
In addition to user authentication linked printing, which deters printed materials from being left unattended, the device provides a variety of security functions such as password settings for scanning, and hard disk encryption and data overwriting.
*1
Based on A1 size LEF
DocuWide 6057: 9.7 sheets/minute
DocuWide 3037: 7.0 sheets/minute
*2
Full colour scanning is optional with the DocuWide 3037 MF model.
Drawing creation: Faster and higher image quality

HIGH RESOLUTION OF 1200 DPI CLEARLY REPRODUCES FINE LINES
The exposure unit is equipped with an LED print head consisting of a drive IC converted into a single chip through highly precise and multi-functional light correction technology. Fine lines and small text often seen in drawings can be accurately reproduced.
Drawing creation
High quality output at 1200 x 1200 dpi
Capable of two separate network environments
Drawing Output
High speed output of A1 sized paper at 9.7 sheets/minute
A0 sized paper can also be output
Digitization
Full colour scanning of A0 sized paper
Drawings can be both saved and printed simultaneously with a single scanning operation